ABOUT OUR WORK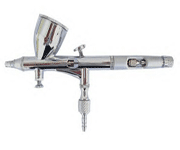 I am a chronic perfectionist, and take great care with every helmet/item to achieve the best quality of finish I can possibly do. If it isn't right I won`t send it out until it is. Each helmet is treated individually and independently of any other helmets I am doing from start to finish. All stages of helmet preparation, painting, and finishing are carried out by myself, with my wife occasionally helping with sanding duties. I do not use any outside 3rd parties at any stage of my paintwork, and personally ensure it meets with my satisfaction at every stage throughout.
As a rider myself for many years, and a qualified Industrial Designer I know how important it is to maintain the structural integrity of the helmet materials. Rider safety is of the utmost priority at every stage of each helmet. I use the original factory paint as a primer / basecoat instead of sanding to the bare material underneath as an extra safety precaution against paint chemicals affecting the helmet materials. I use specialist paints for airbrushing that are far more forgiving in terms of any chemical material damage.
All vents / seals are removed prior to painting where possible, colour matched to the design, and replaced afterwards to achieve a crisp finish. Last thing you want is to receive your helmet and slide a vent / open the visor to find a bare patch that hasn`t been painted! Unseen areas behind the painted visor areas, etc are matched to the helmets design.
All work is drowned in 5-7 coats of lacquer for durability, and fully wet sanded and
polished for a mirror like shine. An example of the quality of finish is below, check out the reflection!
All work priced at £12 per hour including materials.
There are a lot of hours in each piece to get to these standards.
TOUCH-UPS
Scratches/scrapes/stone chips are bound to occur, as is life. I may be able to touch them up if theyre minor. If visor becomes too scratched / damaged it is possible I can re-spray a new visor to match the existing helmet paintwork. Contact me for any advice regarding touch-ups or repairs.
COMMISSIONS
I am open to any commissions for helmets, guitars, etc. Prices vary depending on the complexity of the artwork and prep work involved, etc, but indicatory prices below pictures on this website give idea of cost. Turnaround is usually under 2 weeks upon receipt of helmet/paintwork.
Please note a non-refundable 20% deposit of total will be required to book a slot on my comissions list. This will come off the final balance due on completion of paintwork before dispatch. This is necessary to maintain only serious clients on my list.
Updates will be sent via email for commission work, to make sure you receive exactly what you want.
Full Design layout and help creating exactly the right personal design for you is available, based on my extensive design and art experience. Got some ideas, or just know what you like, and what you dont, then we can work from there.
I will not take on anything I don't know I can complete to a satisfactory standard. I will not just `attempt` a design and take your money. I take great personal pride in my work, and will not provide a 2nd rate design or finish.
SUITABLE HELMETS
Most helmets are suitable for spraying, but bear in mind the quality of the helmet you provide will reflect in the quality of finish I can achieve. I can sand out and fill minor scratches or stone chips on the surface, but will not attempt to fill large holes / cracks or any other serious damage. Apart from being time consuming to myself I will not attempt to spray a seriously damaged helmet. If its seriously damaged, replace it.
Some modern helmets come covered in decals over the whole surface. These are often covered in a plastic coating membrane covering the whole helmet and running under all seals, etc. This stuff is `REALLY` hard to remove, and I dont view it cost effective for me to spend 2 or more days sanding it off and stripping your helmet to its component parts. I dont mind sanding off the odd small decal or sticker as these are just stuck-on, or lacquered over as normal. Basically plain colour helmets with minimal decals are best.
Flip front helmets shall incur a £50 surcharge due to the sheer complexity and number of parts to strip down, paint seperately and reassemble. This doesn't cover the extra hours they take to do, but helps towards the final costs of hours taken.
Terms & Conditions
Payments and Deposits
All orders must be paid for in full & funds cleared in our business account before release/receiving your item, and all work that has been done to your item remains the property of Pitstop Paint until work has been fully paid for.

Payment by Paypal will have an added charge to the total of 4% to cover that companies charges. The main method of transaction that we prefer is BACS direct into our account.

A 20% non refundable deposit must be paid in advance to secure spraying slot, with the balance due upon completion of the work.

Any helmets which are purchased by myself and bought in for artwork have to be paid for in advance. This also acts as the deposit. Once the helmet has been ordered the helmet belongs to the client, but will be retained by Pitstop Paint until the equal amount or paint costs have been paid in full.

Once a deposit has been paid you will be allocated an approximate date slot for the work to be done on my commission work list.

By paying a deposit we will assume you agree with the terms and conditions of this Pitstop Paint terms and conditions policy. We ask all clients to read through these terms and conditions prior to any work commencing. It is the responsibility of the client to read through our terms and if the client does not agree he/she must refuse and inform us not to move forward with our process.

Late payments beyond what is reasonable will incur additional charges and costs for non-payment may have to be recovered by legal action. Not to mention we will not send your item until payment has been received in full.
Design
Logo's and Graphics, if the client does not supply us with the exact images required for logo's and graphics, we have to carry out the research to find the logo requested and therefore we cannot be held responsible for any size or font differences.

NOTE - if you wish to include sponsors and corporate logos into the design it is your responsibility to obtain the rights to use these. We accept no responsibility for using registered logos in an unauthorised manner..

Any logo's supplied by the client with any form of trademark for the use within our design/artwork and painted finishes we must have clear and implicit consent to then display our images of the end product. We will not accept any infringement from trademark once consent has been submitted, if the client has not presented us with clear direction we can not be held responsible. It is up to the client from the outset of talks to present us with clear instructions if we don't have the artistic right to display all images on all our media channels and website.

Pitstop Paint named logo will be placed on all our completed work somewhere discreet and small if we have designed and painted it, as is our right to do so as this is our intellectual property and trade mark. We can leave this tiny text off if you so desire but we must be notified of this in advance of the paintwork being carried out.

Any outer surface helmet certification stickers will be removed as part of the helmet preparation process. This may be an issue for motorsport helmets. If any stickers are required to be kept then we must be notified in advance of the work being carried out and we can mask and work around these decals if at all possible. All official track competition scrutineers should be fit to check the interior for helmet authentication. Pitstop Paint are qualified to carry out helmet stripping, repair and rebuilding of helmets and will ensure that the interior helmet authenticity stickers remain in place.

The design process and finished design may have slight differences and variances from any 2d design sketches or drawings supplied by the customer or ourselves . This is due to the move from a flat 2d design to actually painting and lining out onto a spherical 3d helmet. Other factors may come into place as well. The 2d design is only a representative of the finished helmet design. We try to get as close to the design as possible but we are only human and it is ART.

Prior to commencing your commission we will confirm with you the final design and colours/layout agreed. This is your window of opportunity to fine-tune any design details or colour changes. Once the painting process commences any subsequent changes will be subject to extra charges. So please be very sure of your request before we begin painting. Small adjustment tweaks/changes can be made for free of course at our discretion.

Colours when viewed by the clients computer screen may vary from the screen to screen, We try our best to make sure the photos sent of paintwork truly represent the actual item when viewed with the naked eye. Tone values and visual colours from photographs/graphics can be mistakenly viewed in different values therefore the client may interpret a colour differently to what we do. Please note we can not read minds as to what you think the colour is going to be and what the actual colour is on completion. Unless the client presents Pitstop Paint with the exact correct colour codes of a suitable airbrush paint system/supplier we will interpret colours using our usual colour custom system and suppliers .

Designs created by Pitstop Paint for our clients - we will retain ALL rights, we do not design for other painters. Our designs are ONLY created to be painted by Pitstop Paint . You cannot ask us to sketch out designs and then take those to another painter to copy. Please note that all designs presented to clients are also displaying our copyrights and we retain all. If the client/company etc request the rights to the design to be legally passed over so the client can receive all design/image rights these will have to be negotiated between both parties. We follow Goverment regulations on copyright: https://www.gov.uk/design-right, and https://www.gov.uk/intellectual-property-an-overview and will take legal action regarding our IP if a breach is deemed sufficient.
Extra Work and Changes during the project
Once work has been started and design being approved any changes thereafter is only a verbal agreement and will not affect the original design approval.

If you change your mind on agreed designs after work has begun you will be charged at extra cost as you are responsible for this error or change of mind. The cost will be at an hourly rate to fix the change in design and rectify and amend. Charges are our standard rate per hour. This is the hourly rate of most professional custom paint and airbrush artists; extra material costs will be absorbed into the hourly rate. Small ammendments or tweaks (before final clear coat is applied) aren't an issue generally to change for free, but this is at our discretion.

Please note; Helmets that have graphics already on the helmet direct from the factory have to be sanded back and then high build primer applied, followed by more sanding which indeed creates more work for our company. This is why we prefer to work from a brand new or good condition helmet which is based white from the factory or plain carbon. If you wish to send us a helmet with graphics on we will charge an extra fee for preparing the helmet and material costs.

Flip front helmets shall incur a £50 surcharge due to the sheer complexity and number of parts to strip down, paint seperately and reassemble. This doesn't cover the extra hours they take to do, but helps towards the final cost of hours taken.
Shipping
Shipping and handling charges are the responsibility of the buyer in regard to items being sent, and will be assessed individually. Postal shipping charges vary and are determined by the weight of the box, value of the shipment, delivery address, special handling charges and/or surcharges where applicable. Customers should be aware that they will be notified and charged for any postal costs before their newly painted item is sent back to them. Typically items are sent Parcelforce 48hr to keep costs down. We have never had a helmet or item go missing in the mail thanks to Royal Mail and other couriers. Extremely unlikely a large box will go missing, and have sent several thousand over the years without mishaps. It is advisable if you have concerns, to pay the small additonal fee for insurance to cover your losses if the worst should happen. It is the customers responsibility to notify us if they require additional insurance for the shipment, and they shall be responsible for the extra charges incurred.

You will be responsible for the cost of shipping and insurance. Original shipping and handling charges are not refundable. We are responsible for filing claims with the shipper in case of damage or loss incurred. You must take photographs of damaged items and request return authorisation before sending damaged items back to us. We are not responsible for packages lost during return shipping.

International orders: PLEASE NOTE – The shipping amount will not include any duties, taxes, customs fees, brokerage fees, etc., that may be incurred on international orders. These fees, taxes, and/or duties are not levied by Pitstop Paint and are beyond our control. The client is responsible for any extra charges incurred.
General
If there is a problem that is OUR fault or responsibility we will fix it at our expense, if there is a problem that is your fault or responsibility we will fix it at YOUR expense. We have photographs taken on completion prior to shipping and all items sent will be boxed as per our transport shipping companies terms. On receipt of items if there is any fault this has to be reported the same day with images supplied in high resolution and detailed information provided about any damage so we can then approach the shipping company.

If a client does not wish to accept customised goods on completion, we are entitled to retain the customised item/goods.

If you require an exact colour match for paint you are required as the client to provide Pitstop Paint with the exact airbrush paint manufacturers codes. We cannot and will not be held responsible if the client requests a colour yet does not present to us the correct exact match code.

We will not re-do/change artwork after it has been clear coated/lacquered. Photos are sent prior to this process and any small ammendments must be stated at this time BEFORE I proceed to clearcoat/lacquer. Once the artwork is sealed in and the helmet is assembled it is too late to change things. You as the customer cannot wait until you receive the painted item and then change your mind on details and demand it to be rectified. We will not be held responsible for such actions regarding design changes from what was agreed and approved prior to clearcoat/lacquer being applied. If ordering as a gift for someone else you are responsible for approving the artwork prior to clearcoat. We will not be held accountable for the receiving party deciding they wanted things done differently.
Data Collection
No personal identification information is collected or compiled to sell to third parties for consumer or marketing purposes. Personal information may only be disclosed to third parties, if we are under a duty to disclose or share your personal data in order to comply with any legal obligation or in order to enforce or apply these online Terms & Conditions.
Many Thanks,
Pitstop Paint