ABOUT OUR WORK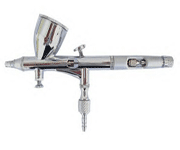 I am a chronic perfectionist, and take great care with every helmet/item to achieve the best quality of finish I can possibly do. If it isn't right I won`t send it out till it is! Each helmet is treated individually and independently of any other helmets I am doing from start to finish. All stages of helmet preparation, painting, and finishing are carried out by myself, with my wife occasionally helping with sanding duties. I do not use any outside 3rd parties at any stage of my paintwork, and personally ensure it meets with my satisfaction at every stage throughout.
As a rider myself for many years, and a qualified Industrial Designer I know how important it is to maintain the structural integrity of the helmet materials! Rider safety is of the utmost priority at every stage of each helmet. I use the original factory paint as a primer / basecoat instead of sanding totally to the bare material underneath as an extra safety precaution against paint chemicals affecting the helmet materials. I use specialist paints for airbrushing that are far more forgiving in terms of any chemical material damage.
All vents / seals are removed prior to painting where possible, colour matched to the design, and replaced afterwards to achieve a crisp finish! Last thing you want is to receive your helmet and slide a vent / open the visor to find a bare patch that hasn`t been painted! Unseen areas behind the painted visor areas, etc are matched to the helmets design.
All work is drowned in 5-7 coats of lacquer for durability, and fully wet sanded and
polished for a mirror like shine!!! An example of the quality of finish is below! Check out the reflection!
All work priced at £12 per hour including materials.
There are a lot of hours in each piece to get to these standards.
TOUCH-UPS
Scratches/scrapes/stone chips are bound to occur, as is life. I may be able to touch them up if theyre minor. If visor becomes too scratched / damaged it is possible I can re-spray a new visor to match the existing helmet paintwork. Contact me for any advice regarding touch-ups or repairs.
COMMISSIONS
I am open to any commissions for helmets, guitars, etc. Prices vary depending on the complexity of the artwork and prep work involved, etc, but indicatory prices below picture on this website give idea of cost. Turnaround is usually under 2 weeks upon receipt of helmet/paintwork.
Please note a non-refundable 20% deposit of total will be required to book a slot on my comissions list. This will come off the final balance due on completion of paintwork before dispatch. This is necessary to maintain only serious clients on my list.
Daily picture updates will be sent via email for comission work, to make sure you receive exactly what you want.
Full Design layout and help creating exactly the right personal design for you is available, based on my extensive design and art experience. Got some ideas, or just know what you like, and what you dont, then we can work from there.
I will not take on anything I don't know I can complete to a satisfactory standard. I will not just `attempt` a design and take your money! I take great personal pride in my work, and will not provide a 2nd rate design or finish.
Please note that once a design has been agreed on, and undertaken. any further changes may incur further charges.
SUITABLE HELMETS
Most helmets are suitable for spraying, but bear in mind the quality of the helmet you provide will reflect in the quality of finish I can achieve. I can sand out minor scratches on the surface, but will not attempt to fill large holes / cracks or any other serious damage. Apart from being time consuming to myself I will not attempt to spray a seriously damaged helmet. If its seriously damaged, replace it!
Some modern helmets come covered in decals over the whole surface. These are often covered in a plastic coating membrane covering the whole helmet and running under all seals, etc. This stuff is `REALLY` hard to remove, and I dont view it cost effective for me to spend 2 or more days sanding it off and stripping your helmet to its component parts. I dont mind sanding off the odd small decal or sticker as these are just stuck-on, or lacquered over as normal. Basically plain colour helmets with minimal decals are best.
Flip front helmets shall incur a £50 surcharge due to the sheer complexity and number of parts to strip down, paint seperately and reassemble. This doesn't cover the extra hours they take to do, but helps towards enough that I can oversee the rest.
NEED HELP COMING UP WITH A DESIGN BASED ON SOME INITIAL IDEAS AND MOVING IT INTO A FINISHED PAINTWORK DESIGN??
| | | |
| --- | --- | --- |
| | From Picture to paint! | |
See our DESIGN IDEAS/HELP page!
TERMS AND CONDITIONS
PAYMENT
I will not dispatch any finished helmets back to customer until payment is made in full! This can be arranged through our Paypal account, or by other means such as personal cheque or instant bank account transfer (online or local branch). Funds must be cleared before dispatch will commence.
DAMAGES / RETURNS
Our packaging is of very heavy construction with thick wooden inserts to prevent box crushing, etc. If in the unfortunate and unlikely situation that a helmet/item is damaged in transit from ourselves to the customer please contact us immediately, and email pictures of damage if possible. We will repair any marks free of charge as long as the item is returned within 7 days (UK), in original packaging to avoid further damage. We will not be held responsible for further damage incurred through returning in sub-standard packaging.
We have never had a helmet or item go missing in the mail thanks to Royal Mail and other couriers. Extremely unlikely a large box will go missing and have sent several thousand over the years without mishaps. It is advisable if you have concerns, to pay the small additonal fee for insurance to cover your losses if the worst should happen. We will not be held liable for loss however as in the hands of the 3rd party and any claims must be levied against them.
WEBSITE ADDRESS / TAGGING
All work I sign with my business name in an unobtrusive area as per most painters. If this is not desired for racing purposes or whatever reason please specify in advance.
By paying your deposit and booking yourself in for work you acknowledge accept these terms and conditions.